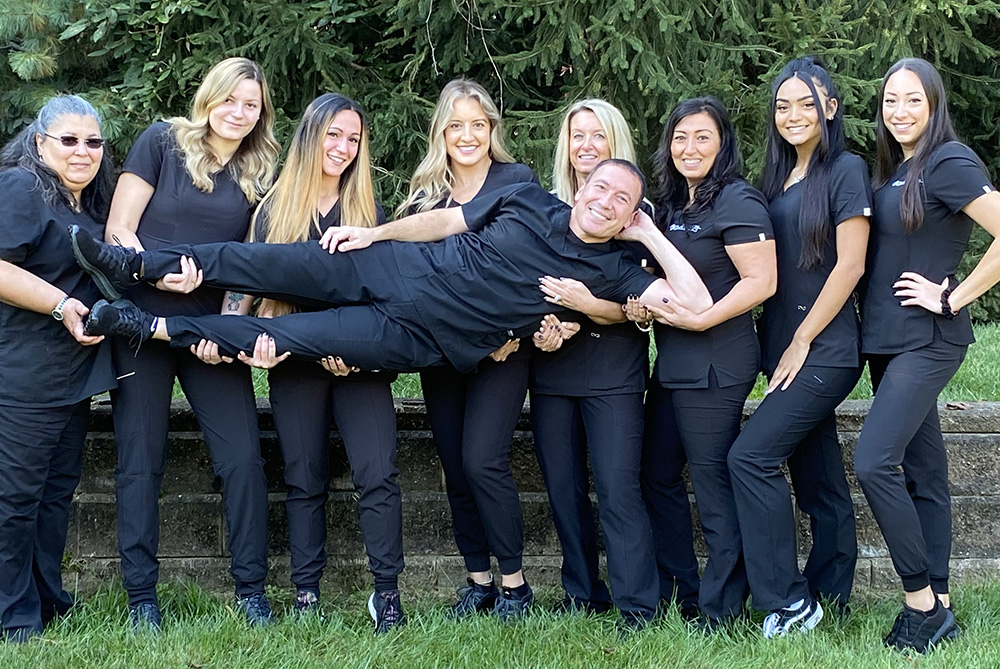 ---

Cherie
Office Manager
As Dr. Karlin's practice administrator, I am usually the first person to greet you upon your arrival to our office. I have worked in the finance and management fields for more than 20 years, and I have more than 15 years of experience in the orthodontic field. My extensive background in working with insurance companies will help ensure that you will receive the maximum orthodontic benefit to which you are entitled. Striving to manage our team and helping to create a professional, fun, and friendly office environment, I look forward to working with you and your family to provide a comfortable, stress-free, and rewarding experience in our office. The best part of my day is when parents and patients tell me how much they love coming to our office for their appointments!
In my free time, I love to go to the beach and bury my toes in the sand. I grew up in Pennsylvania, so there is still a country girl in me who loves to spend time in the mountains! I love to travel and spend quality time with my family and friends.
---

Toni
Patient Coordinator
I have been working with Dr. Karlin for over ten years, and I have over 30 years of customer service experience. Before joining the orthodontics field, I earned my Bachelor of Science degree in business administration from the University of Maryland and a Certified Dental Assistant degree from Shore Academy Dental Assisting School. It is my pleasure to help answer any questions that you may have. I enjoy being able to help our patients, and I am proud of the way that our team is able to meet so many unique individuals' needs.
When I'm not at the practice, I enjoy spending time with my husband, Jeremy, and our children, Taylor and Tristan. My hobbies include cooking and making stained glass. It is my greatest goal to make everybody's experience at this practice as pleasant as possible.
---

Melissa
Front Desk Coordinator
Hey there! As a front desk receptionist, I enjoy greeting all of our patients and love hearing how excited they are about their orthodontic journeys. One of the best parts of my job is seeing patients' new smiles after getting their braces off.
When I am not in the office, I enjoy playing with my puppy Aurora. I'm also a foodie, and I love trying new restaurants whenever I can. I often take road trips over the weekend to discover new places that aren't too far away but are beautiful nevertheless.
---

Lisa
Orthodontic Assistant
I have been an orthodontic assistant for more than 20 years, and I have worked with Dr. Karlin for over 10 years. I enjoy working with both children and adult patients, making them feel comfortable and excited about their treatments. I am proud to work with such an exceptional team who has found the perfect balance of professionalism and fun every single day. Everyone truly enjoys working here, resulting in an amazing energy in the office throughout the entire day!
On a personal note, I am a huge music fan. I have an eclectic taste, listening to everything from Frank Sinatra to Meat Loaf! I also enjoy spending time with my five children. I am a huge bookworm, and I love to cook. After many years of pleading by my family and friends, I finally combined these two passions by writing my very own cookbook!
---

Sev
Orthodontic Assistant
I have been working with Dr. Karlin and his team for over five years, and I have over thirteen years of orthodontic assisting experience. What I love most about my job is seeing our patients' confidence unfold as their smiles improve and their self-esteem increases.
In my spare time, I enjoy spending time with my family and friends, and of course with my little pug Harley.
---

Monica
Orthodontic Assistant
I have worked with children since I was a teenager, and I am so happy to be in a career where I can continue to do so. I have a passion for working with teeth and for helping our patients achieve and maintain beautiful and healthy smiles.
When I am not at work, I enjoy spending time with my family and friends, and I love being outside and appreciating nature. I also enjoy baking and watching scary movies.
---

Crystala
Orthodontic Assistant
I have been working in the dental field for seven years. After five years working in general dentistry, I switched to orthodontics and have never been happier. I can't believe how fast the time has gone, but time definitely flies by when you love what you do! I am extremely passionate about my work, and I enjoy educating our patients about proper dental hygiene and oral health. I especially like working with children, helping them stay calm during their office visits and watching their smiles transform.
In my free time, I dedicate much time to health and fitness. I work out a lot, and I have lost 100 pounds! I am a healthy eater and have started a meal preparation side business, although I must admit that I do grab a slice of pizza and some bubble tea from time to time!
---

Arianna
Lab Technician
I have been part of our orthodontic team for two years, but I began my journey when I was Dr. Karlin's ten-year-old patient. From firsthand experience, I know the amazing quality of treatment that Dr. Karlin and his staff provide for their patients. Now on the "other side," I am so fortunate to see the smiles on the patients' faces when they see their beautiful results, and I love working with an amazing staff that feels like a second family to me.
I am a full-time college student and will be receiving my associate's degree in liberal arts soon, and I plan on transferring to a four-year university to obtain my bachelor's degree. Although my schedule is busy, when I do get time to relax, I enjoy traveling and spending time with my friends and family.